In recent years the machine-made wigs have gained popularity with both young women and mature wig enthusiasts seeking sleek short crop cut wigs without much fuss on styling. Fashion women love to wear the machine-made wig to change their look and beauty.
Do you know more about machine made human hair wigs? Before you buy, you must know the machine-made wig in detail, in order to buy the most suitable for you. Today, we will talk about the machine-made wig and help you to buy the best quality human hair machine made wig.
What You Will Learn From This Article
What's the Machine Made Wig?
Why do Most People like To Wear Machine Made Wig?
The Features Of Machine Made Wig
The Benefits Of Wearing Machine Made Wig
What's the Best Way To InstallA Machine Made Wig?
First, What's the Machine Made Wig?
Machine-made wig with fixed parting and is similar to front lace wigs. They are usually cheaper than hand-made pieces. In most styles, the hair is machine sewn onto a "weft" in a fixed pattern.
The wefts are then assembled together on an open net base. Generally, this type of construction is worn by persons who have some hair, as you can see through the wefts when the wind blows.
Why do Most People like To Wear Machine Made Wig?
Machine-made wigs are the least expensive and most widely available. Wefts of hair are sewn together in a straight line, cut and assembled into a wig. When you look inside a machine-made wig you can see the lines.
Many look extremely realistic as long as they are not parted, pulled back or otherwise altered. Some people find these wigs more comfortable because the construction creates vents that allow air to circulate to the scalp.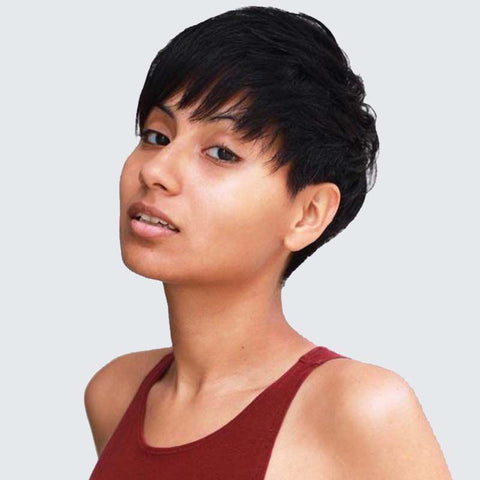 The Features Of Machine Made Wig
Hair Material: 100% Human Hair Wig

 

Without Chemical Processed
Hair Color: Natural Black Color Or Colored Wig
Cap Size: Circumference:22-22.5 inches; Front to nape: 13.5 inches; Ear to ear: 15.25 inches
Cap Construction: Machine Made
Texture: Body Wave Hair Wigs, Curly hair wigs, Straight Hair Wig, Bob Wig, Pre-plucked Hairline, Soft, Comb Easily, Minimal Shedding, No Tangling 
Special features: Can be bleached, dyed and restyled  
The Benefits Of Wearing Machine Made Wig
The full mechanism, short production cycle
Low price, more cost-effective
The style is refreshing, suitable for summer style
Convenient care
Short production period & fast delivery
Cost-effective
Easy to take care
Requires no wig tapes or glue to wear
Sleek Style
Ease in restyling
Comfortable to wear
Protects your hairline
Bang With Wig
Young and Unique Wig
Cheap Affordable Price

What's the Best Way To Install A Machine Made Wig?
Ideally, you would section your hair and put these sections into pin curls. However, if this is too complicated or you don't have the time, you can wrap your hair around your head to flatten it and simply pin it in place.
Once you've done that, locate the back of the wig, where the tag is. Hold the wig with both hands, one on each side of the tag and place the front of the wig at your eyebrows.
Pull the wig all the way over your head and then slide the front of the wig back until you reach your hairline. It's important to take it all the way to the hairline; otherwise, it looks like you don't have a forehead.
Run your fingers along the sides of the wigs and find the two hard ear tabs (they're generally near your temples). Make sure that these ear tabs are even – this is how you know that your wig is on straight.
Once the wig is at your hairline, tabs are even and the wig is pulled down in the back, you're done.