Machine Made Human Hair Wigs VS Synthetic Hair Wigs
The main difference between artificial and human hair wigs is the material used. Machine made human hair wigs are made from real human hair, so they look and feel real. Synthetic hair is a fiber. Synthetic wigs retain their style well after washing. 
With so many styles, colors, brands, and types on the market, picking a wig for the first time can be overwhelming, to say the least.  Learn more about artificial wigs and human wigs before driving you to buy them. This will help you a lot.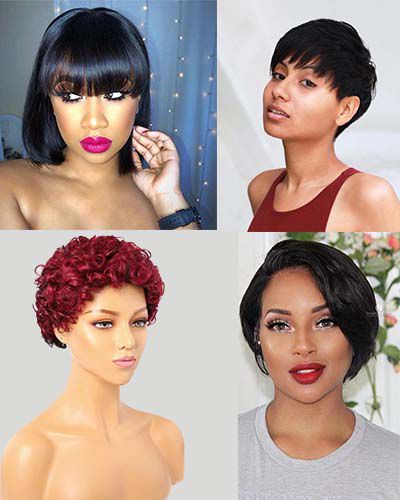 Machine Made

 

Human Hair

 

Wig
Human hair Machine Made Breathable Wig is made of
 100% virgin human hair 

which uses like your own hair. It has not undergone any chemical treatment, and the texture is natural and will not be damaged by any process. It also has a natural look.
Unlike a
 lace front wig

, the mechanism is that the wig is sewn by a machine. The lace wig was made half by machine and part by hand with lace.
Because it grows by human man being, it is not easy to tangle and frizz which contains by keratin and melanin. Human hair wigs are the same as your own hair and can be done in different hairstyles. As long as the wig is treated as his own hair, it will last a long time.
Synthetic Hair
Synthetic wigs cost much less than human hair wigs. Most synthetic wigs look bright, not natural, and can get hot easily. You can't do any heat treatment on the artificial hair. So you can't use a curler, straightener, or even a hairdryer. The synthetic wig will not last long, but it also has its own advantages. The most appealing aspect of synthetic hair is it can often be worn right out of the box with little or no styling.  It can even hold up in bad weather and can guarantee no drooping or frizzing.
Machine Made Human Hair Wig vs Synthetic Hair
1. Full human hair wig is multifunctional, synthetic hair wig is not.
2. Human hair wigs can be colored, permed, and styled just like your own hair. Synthetic hair does not have such a function wigs human hair has a natural appearance, and a synthetic hair is a little unnatural
100% virgin Human hair wigs feel great and can look incredibly natural. Synthetic hair is made from fiber and will have a slightly highlighted appearance rather than the natural look of human hair.
3. Human wigs last longer than synthetic hair
A proper caregiver hair wig can be used for 9 to 12 months. The use time of synthetic hair is 3-4 months.
4. Synthetic hair is cheaper than human hair wig
5. Synthetic wigs are relatively inexpensive. Because human hair wigs are harvested from human hair, they are typically more expensive.
Synthetic hair is easier to care for than human hair
Synthetic wigs are easy to take care of. You simply wash, dry and then shake them out, and the wig will return to its initial style. Human hair Wigs are made with virgin human hair, so you need to do it just like you do your own hair.
Advice:
If you want a more natural look, human hair wigs are your best bet.
If you want to save money you can choose synthetic hair, of course, you can also visit the human hair wig Coupon Bazaar, if the discount is big enough to meet your expectations, you can choose human hair wig.
If you are a reformer, the human hair wig is your best choice. You can use your talents to remodel your favorite hairstyle.
If you're loath to cut your hair, synthetic hair can save you a lot of trouble.
If you don't like to spend too much time choosing a wig, it is recommended that you choose a human hair wig because it has a long life and you will not buy it frequently.